Out-of-State Car Buying at Heller Motors
Here at Heller Motors, we pride ourselves on being the go-to source for Jeep and Ram sales for not just local shoppers, but drivers across the country, too! We warmly welcome out-of-state car buyers to our lot, and we're even happy to assist with online vehicle shopping if you'd prefer to stay home. Whether you're based in Wisconsin, Iowa, Indiana or elsewhere, we can help you buy a car out of state with ease. Learn more about how our out-of-state car delivery options work when you reach out to the team at our Pontiac Jeep dealership.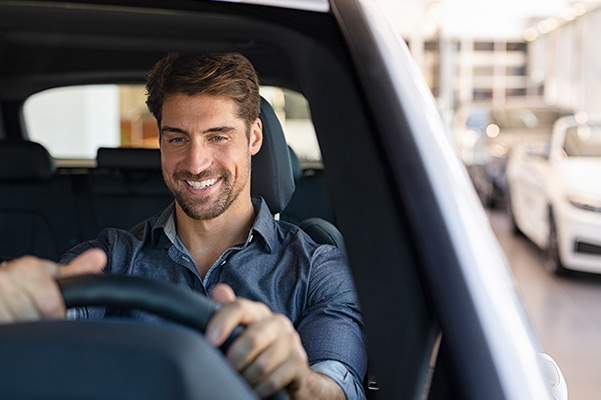 How to Buy a Car Out of State
It's easy to buy a car in a different state when you shop at Heller Motors. We offer an expansive selection of new Ram trucks, Jeep SUVs, Dodge sports cars and Chrysler minivans, so it's easy to find something that fits your lifestyle when you shop with us. Plus, we offer used cars for sale in IL that are ideal for those shopping on a budget. And if you don't see the specific model and trim you're looking for in our inventory, you can ask us about how to custom order a Jeep in Illinois. We make it easy to build a truck or SUV that has all the features you want! Once you've decided which vehicle you'd like to take home, our Chrysler and Ram finance team will be happy to assist with all the paperwork and registration documents. No matter where you call home, we make comparing car loan rates and auto financing easy!
Out-of-State Car Delivery
If you'd prefer to buy a car online rather than travel to our Pontiac Ram dealer, then you're welcome to browse our inventory online. We offer car delivery anywhere in the contiguous United States, so you can get a vehicle shipped right to your door when you shop with us! If you need any help throughout the online car-buying process, a member of our team is just a click or call away. Contact Heller Motors today to get things started!
Heller Motors Reviews
Over the years, we've developed a reputation as a trustworthy car dealer with good reviews — especially among our out-of-state car shoppers! We encourage you to check out the Heller Motors reviews to see what others have to say about their experiences working with us, or simply take a look at the customer testimonials below:
Sue Waber:
We just purchased a Rubicon from Heller. We are in Colorado and from beginning to end these guys were awesome. Everything went smooth as could be. We handled through phone, text and email and they delivered our vehicle to our door in less than four days. I never had to wait when I had a question and they moved through the whole process seamlessly from department to department. We couldn't be happier with the Rubicon and the service. I highly recommend them. Thank you everyone at Heller for the best car buying experience we have had so far.
Mara Kutch:
I had an amazing experience with Jeremy, Jason and Jake when I purchased my new Jeep at Heller Motors. I was unable to place an order with my local dealerships, since Jeep was no longer accepting orders for 2021 models. But Jeremy contacted me online about a vehicle that was being built and sent to his dealership and it was exactly what I originally wanted to order. We were able to handle everything over the phone and via email and the process was extremely easy. From day one they all kept me in the loop of the status of my order, and when my Jeep finally arrived, we made the 6-hour drive to Pontiac, IL. When we got there, everything was all ready and I was able to leave with my brand-new vehicle within less than 1 hour of arrival. Although I shopped around for the best rates for weeks, they were able to beat the interest rate of my bank, so we ended up doing the financing through them as well. Great people with awesome customer service! Would recommend them to anyone looking to buy!
S. Lindsay Graham:
In a world where nothing seems to go as planned, we simply can't get over our experience with Ryan Cox and the entire team at Heller Motors. They allowed us to purchase remotely. Facilitated every moving part, even shipping! What stands out is that Ryan got back to us in a nanosecond every time we had a question or concern and Keith, the finance manager, was equally responsive. In charge of shipping, John was just OMG. He told us when the Jeep would pick up, when it would drop off, who would call us two hours in advance. It all happened exactly as indicated. Pinch us, are we dreaming? Obviously, we'll refer anyone we know, even if out of state. Thank you for being the folks in this upside-down and slow-as-molasses world for being the light and the energy we crave! Oh, and this review was 100% unsolicited. That's how powerfully enamored we are with the caliber of Heller Motors and Ryan.
E H:
I can't say enough good things about our experience with Heller Motors!! After coming off a horrible experience with a different online company it was so refreshing to talk to a real person immediately! We got set up with Kyle right away and he was amazing!! I'm sure they are all wonderful but seriously… ask for Kyle!! He was always quick to respond and very helpful!! He made the entire process go very smoothly! After we decided to go for our car the process moved along very quickly and very smooth! Every person who we were in contact with was very polite and helpful!! We had our car delivered to us because we are about 8 hours away, and we couldn't believe how quickly they got it to us! The driver was so nice and friendly! We love our car so much! If we are ever in the market for another car we will definitely look up Heller Motors again!